---
Place of Origin: Guangdong, China
---
SKU: EW847wadcp
---
Warranty Policy: 1-Year warranty
---
Screen size: 7inch
---
Screen type: IPS
---
Resolution: 1024*600
---
Microphone: Built-in
---
Bluetooth: Built-in
---
WIFI: Built-in
1.Plug and play.
---
2.Compatible with all original OEM features. Contains steering wheel buttons, iDrive knobs, parking sensors, cameras, and more.
---
3.Switch to CarPlay or original system freely (press "Menu" Button on iDrive controller over
---
2 seconds to switch between two system easily).
---
4.Wireless or Wired Apple CarPlay(AirPlay is unavailable)
---
5.Wired Android auto(Screen mirroring is unavailable)
---
6.Siri voice control, knobs, buttons or touchscreen
---
7.Compatible original parking sensors
---
8.Compatible original cameras and aftermarket cameras(Front camera, Rear camera and 360-degree camera. Automatic switching when reversing)
Volkswagen:
Amarok (2010-2015) Bora(2006-2015) Beetle (2011-2015) Caddy (2003-2015) EOS (2006-2015) Golf Plus (2004-2013) Jetta(2006-2015) Lavida(2011-2012)
Magotan (2006-2013) Passat CC (2008-2011) Polo(2009-2013) Scirocco(2008-2015) Sagitar(2005- 2015) Sharan (2010-2014) Touran (2003-2014) Tiguan (2007-2015) T5 Transporter (2010-2013) T5 Multivan (2010-2013) T5 Caravelle (2010-2015)
Vento (2009-2015) Golf MK6/VI6/A6/5K(GTI/ Wagon/ R/Variant/ Estate /Cabriolet)(2008-2013)
Golf MK5/ V5/A5/1K(Variant/GTI/ Estate)(2003 – 2009)
Passat B6 /3C (Estate / Sedan/ Wagon) (2005-2010)
Passat B7/3C (Estate / Sedan/ Wagon/ lltrack) (2010-2014)
SEAT:
Altea(2004-2015) Alhambra (2010-2014) Leon (2005-2012) Toledo (2004-2015) Fabia (2007-2013) Octavia (2007 -2012) Praktik(2007-2011)
SKODA:
Roomster (2003-2015) Superb (2008-2014) Yeti (2009-2015)
Please contact our customer support team if your factory car radio is different from the pictures 
listed. We'll confirm whether it fits your car or not.

You need an installation kit to install this car stereo if your factory car radio is the same as the
pictureslisted below. Please contact our support team and we'll help you further.
Inapplicable Models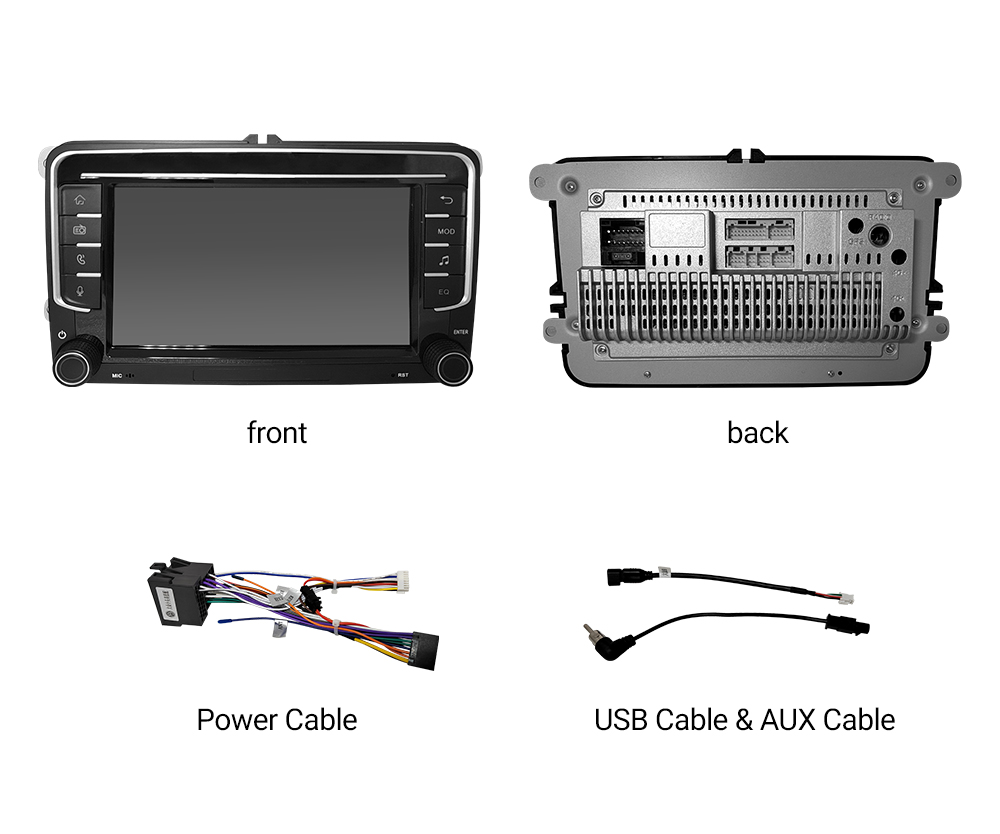 This product has a 12-month fault warranty, if the product is faulty, we will repair or replace it with a new one